COVID-19 has resulted in a large surgical backlog. First, there are those patients who were supposed to get surgery during the surgical suspension period. Second, there are patients who are not getting surgery due to limited capability while health care systems are still ramping up. As we discussed in the first part of our series, as long as hospitals are not operating at 100% capacity, the backlog and waiting lists will continue to grow.
Given that studies have found health systems bring in about $700 more per admission for surgeries than emergency room admissions and surgical stays account for roughly 48% of a hospital's revenue, the need to get back to business has never been greater. In part two of our series, we'll cover three strategies to help hospitals and health systems get back on track and take advantage of the tailwinds created from the enhanced distribution of the COVID-19 vaccine.
The Increasing Importance of Outpatient Care
By transitioning care from inpatient to outpatient settings, hospitals may be able to increase patient throughput and deliver a more streamlined, focused care to their patients given how resource-constrained many facilities currently are.
The approach of moving traditionally hospital-anchored surgical specialties to outpatient facilities has already seen success. In dermatological surgery, for example, dermatologists treating skin cancer are able to perform Mohs micrographic surgery, which combines tumor removal and advanced reconstruction techniques, in one visit using local anesthesia in an outpatient clinic.
Integrated delivery networks may shift same-day surgeries to ambulatory surgery centers (ASC) based on capacity, exposure risk and patient preference. Surgical site infections in the ASC setting are also lower on average (4.95 per 1,000 patients) than in the hospital setting (8.95 per 1,000), lowering the likelihood that a patient would need to return to the hospital post-surgery for additional care.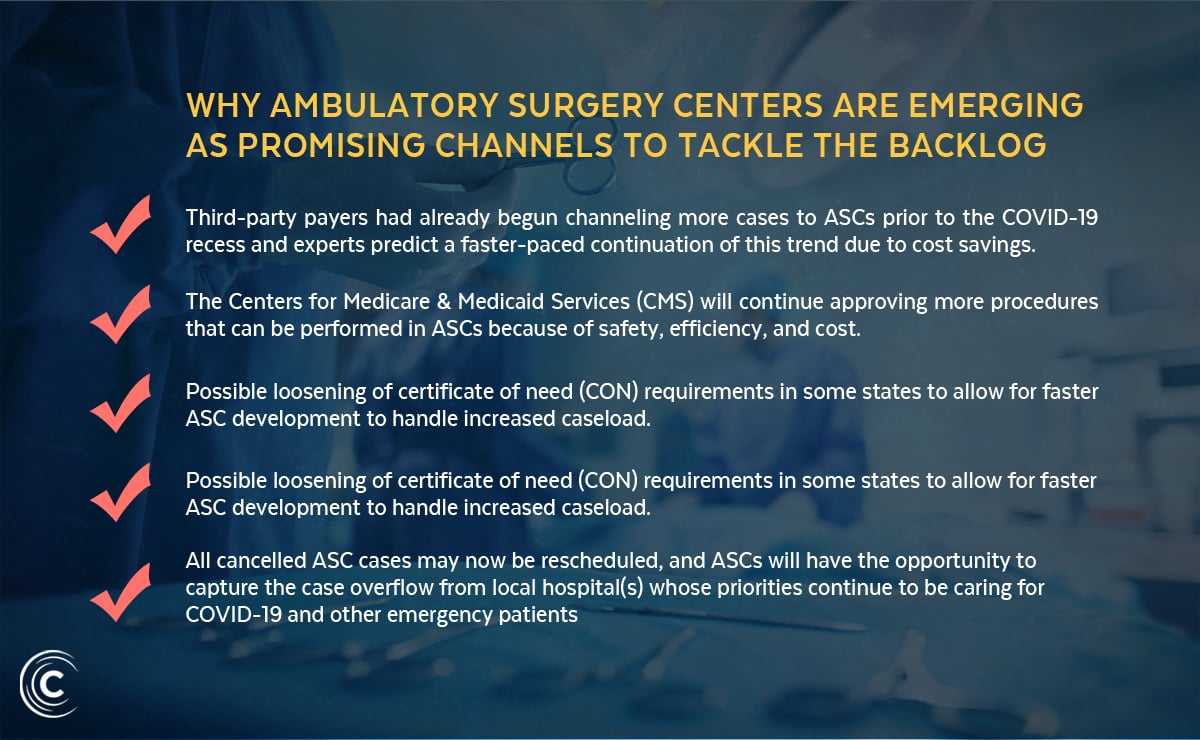 In the acute care setting, providers are designating spaces with COVID-19 patients as "hot zones" and creating throughput plans that separate them from COVID-19-free "cold zones." Hospitals will need to designate units for elective surgical patients to minimize exposure to hot zones. Ideally, this ancillary staff will already work in a cold zone, dedicated to the surgical department and avoiding contact with COVID-19-designated units.
Expanding Operating Room Schedules
Most hospitals currently limit operating rooms (ORs) to the weekdays, allocating the weekends for emergencies. However, expanding access of surgical operations to the weekend can decompress weekday schedules and improve equitable access for patients, especially those that may be unable to schedule surgeries during the week due to childcare or work responsibilities. This seven day utilization would also be a much better use of high-cost, capital intensive OR space.
One throttling factor to think about is that many surgical patients require a hospital bed and other resources following their surgeries, and these beds will quickly be at capacity. This also assumes that healthcare professionals are willing to contribute more working hours every week, and that hospitals can afford to pay them at premium rates. An alternative, of course, is to hire locums physicians to help address the uptick in need.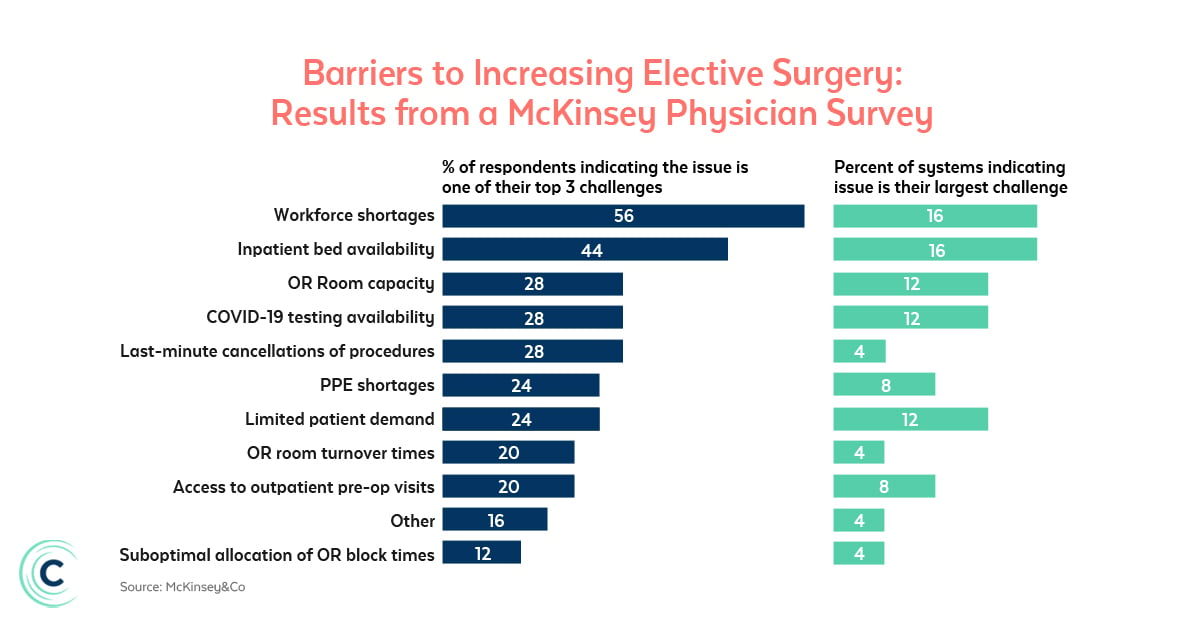 Develop Patient-Centric Messaging and Billing Policies
Even if COVID-19 cases are declining given the recent availability of the vaccine, patients and their families may hesitate to proceed with surgeries. Equip schedulers with talking points that explain the rigorous COVID-19 screening and testing policy so patients are put at ease and so that they can ask questions in advance. Messaging should also explain visitor restrictions, changes to parking or valet services, and wayfinding directions so patients can easily find the surgical site without getting lost. Staff should also be prepared to speak to pre-, peri- and post-operative COVID-19 prevention plans, including assurances on physician and staff testing.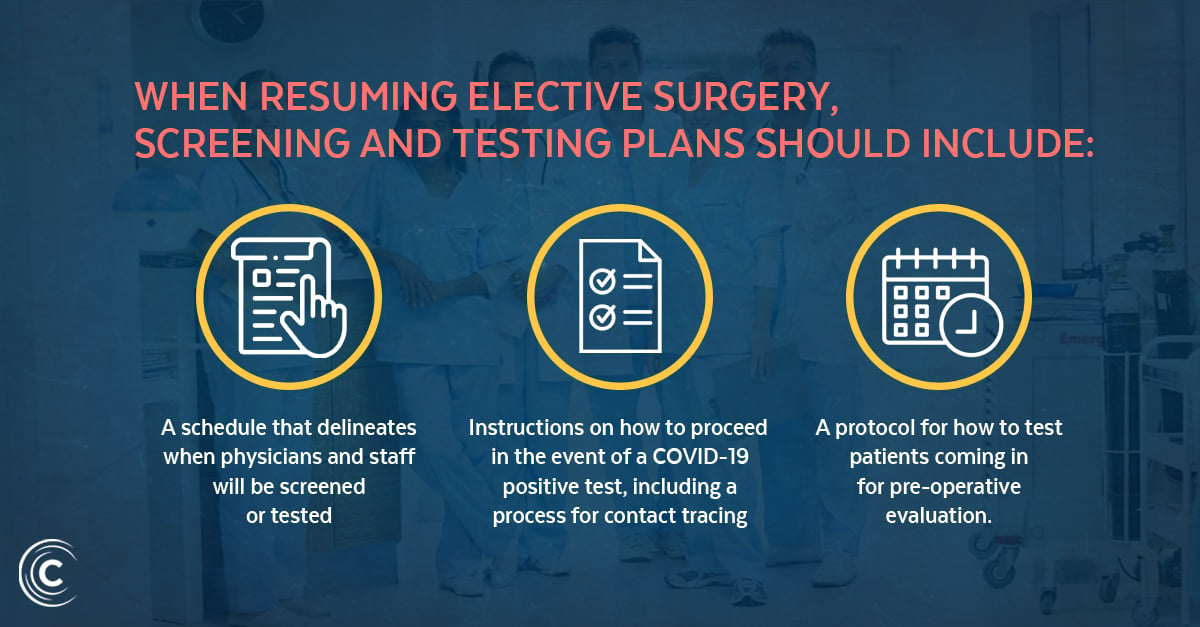 Another prominent patient consideration centers around billing. COVID-19 has led to increasing unemployment rates, and many patients are facing daunting and unprecedented financial burdens. To minimize the costs incurred by patients for surgical care and make it easy for them to understand their out-of-pocket costs, hospitals and health systems should provide patients with access to transparent pricing for their most performed procedures from the common insurers at each facility. By providing price transparency, facilities can improve access to surgical care by minimizing unanticipated financial pressures.
Resuming Elective Surgery in 2021
Enjoyed this content? Tackling the backlog in an efficient and effective manner while minimizing COVID-19 risks will require thorough planning, coordination and the development of a systematic and structured approach. In our new eBook, "Resuming Elective Surgery in 2021", we help healthcare leaders get back to business and address their institution's backlog.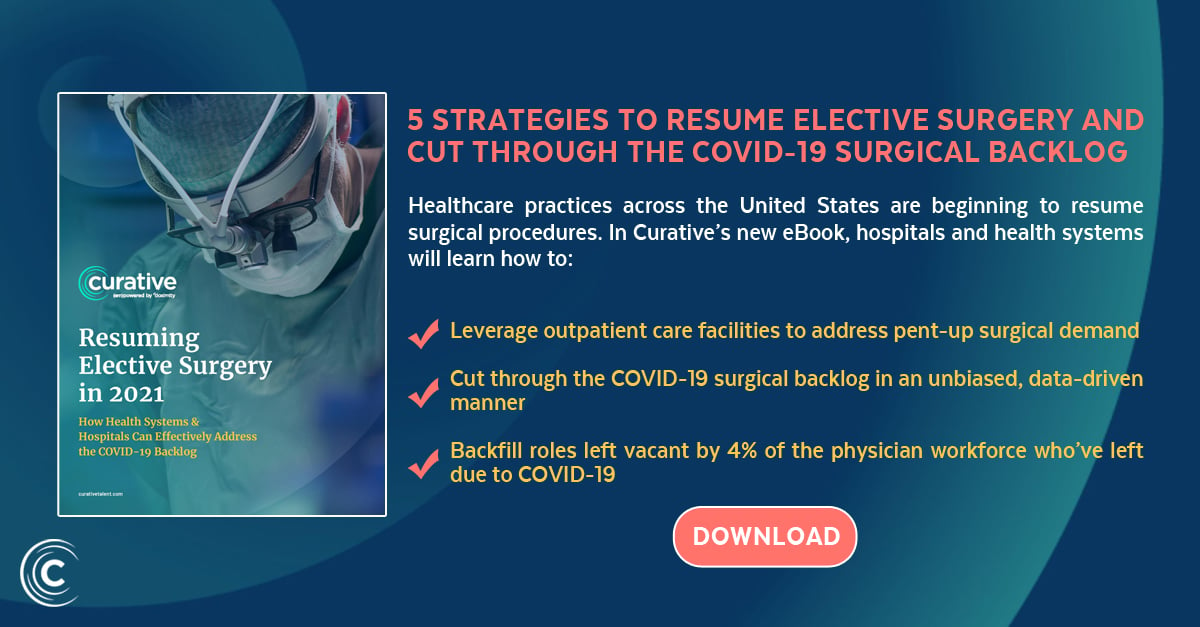 About Curative Talent
Recently acquired by Doximity, the world's largest medical network, the all-new Curative is a healthcare recruiting and staffing agency that finds incredible talent with less hassle using better data. We combine the industry-leading expertise and deep relationships of our experienced recruiters with Doximity's intelligent technology to fill roles quickly and effectively.
Our unique algorithm matches the right candidates for the right jobs; leveraging our unique relationship with Doximity, we're able to reach candidates that no one else has access to. To learn more about how we can help your facility address your hiring needs through our fresh, differentiated approach to healthcare recruiting and staffing, please visit https://curativetalent.com/.