In the first two parts of our series "Resuming Elective Surgery in 2021", we discussed the financial impact of COVID-19 on elective surgery, the surgical backlog that resulted, and strategies for facilities to increase their surgical capacity. In the third and final part of our series, we examine how COVID-19 has impacted healthcare providers, covering not only the psychological stresses associated with practicing during the pandemic, but also the impact of the virus on physician employment.
Finally, we offer tips to healthcare leaders on how to employ an unbiased, data-driven approach on prioritizing surgical cases needing to be rescheduled.
Actively Monitor the Well-Being of Your Providers
In a recent survey, 55% of physicians state that COVID-19 has increased their feelings of burnout.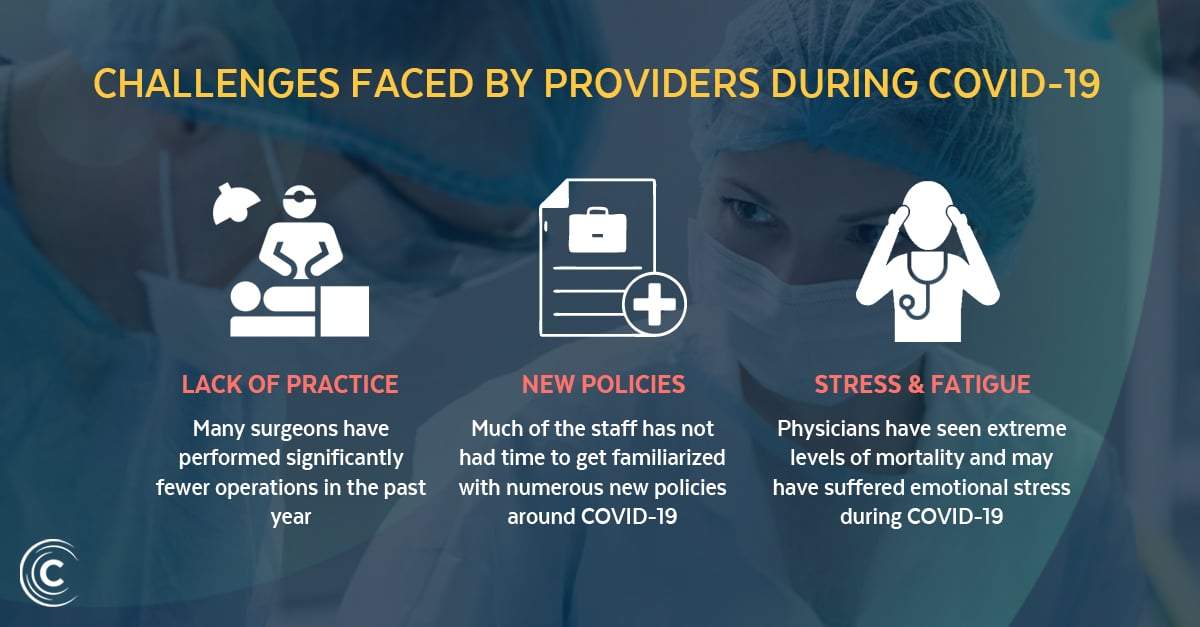 Now, more than ever, healthcare employers must train their supervisors to identify signs of stress or burnout, and make resources available to their providers shall the need arise. Surgeons may be experiencing heightened levels of psychological fatigue, and protocols must be put in place to address these human factors. Recently, healthcare facilities such as Massachusetts General Hospital and NewYork-Presbyterian Hospital have gone so far as to institute a "buddy system" for providers to receive an extra layer of support from their peers.
Retain a Physician Recruiting and Staffing Company to Address Increased Capacity Needs Today and in the Long-Term
As the vaccine continues to be distributed and COVID-19 slowly begins to ebb, many healthcare facilities will need to onboard new physicians to keep up with the demand for elective surgery. This increased demand, coupled with some of the on-the-job pressures physicians face, make hiring locum tenens providers the ideal solution to address ever-changing market conditions. Locums providers will become an instrumental part of any hospital's strategy as they try to recoup lost revenue and expand care.
Since patients have developed relationships with the surgeons operating on them, and trust and credibility has already been established, we estimate that a significant number of locums hires will from anesthesia and support services to help increase throughput.
While the fluctuating hiring needs will certainly be felt by hospitals and health systems in the coming months, it's never too early to start thinking about the long-term as well. The COVID-19 pandemic has served as a catalyst for many providers to retire early or stop practicing. Some clinicians had underlying health conditions; others stopped practicing during the worst of the outbreaks and don't have the energy to start again.
A survey of more than 3,000 U.S. physicians released this summer by Physicians Foundation, a non-profit group, reported 4% said they wouldn't return to work. Another study found that nearly a fifth of clinicians surveyed in September 2020 said someone in their practice planned to retire early or has already retired because of COVID-19, and 15% said someone had left or planned to leave the practice.
This exodus may contribute to a further slowdown in cutting through the surgical backlog. It can take up to nine months to interview, hire, and get a physician credentialed, so developing a long-term strategy now to shore up your permanent hiring needs for tomorrow will no doubt serve healthcare facilities well.
Leverage Data Analytics to Prioritize Procedures and Forecast Patient Demand
There are a variety of organizations that have provided guidance on prioritizing the surgical backlog, including the American College of Surgeons, but in most cases, it's left to individual surgeons and leaders of hospitals and health systems to make ad hoc surgery prioritization decisions, oftentimes without a robust, well-thought out prioritization framework.
Developing an algorithm that auto-prioritizes patients, taking into account a variety of factors can prevent these types of situations, and create a systematic process that is both efficient and fair. The Phoenix Children's Hospital implemented such a strategy, recently developed an interactive dashboard that allowed them to reschedule 3,000 surgeries by considering the patient's surgical risk factors (e.g., patient age, surgical urgency), capacity requirement factors (e.g., OR time, PPE consumption), and COVID-19 risk factors (e.g., COVID-19 status, case transmission risk).
Hospitals and health systems should also be leaning into data to forecast demand. According to a McKinsey survey, less than 50% of healthcare leaders are confident in their ability to predict surgical volumes more than one month in the future. Given the fluctuation of COVID-19 cases, understanding how to accurately predict demand will allow facilities to develop strategic plans on how to best utilize their assets. HCA Healthcare, for example, has created a dashboard with color-coded warning levels to alert of potential COVID-19 surges, and health system Tenet Healthcare monitors public health data to forecast their patient census.
Resuming Elective Surgery: The Road Ahead
As COVID-19 begins to wane with the increasing prevalence of widely-available vaccines, hospitals and health systems must ensure they have proper operational and strategic processes in place to resume elective surgery in an effective and methodical manner. Understanding how to address the diverse elective-surgery considerations of providers, patients, and administrators through creative and compelling strategies will dictate how quickly the United States' healthcare system can address the growing COVID-19 surgical backlog.
If you liked this blog, check out our new eBook, "Resuming Elective Surgery in 2021." In this new guide, we recommend five strategies that healthcare leaders can implement to meet their clinical objectives and develop better operational efficiency to address their institution's backlog.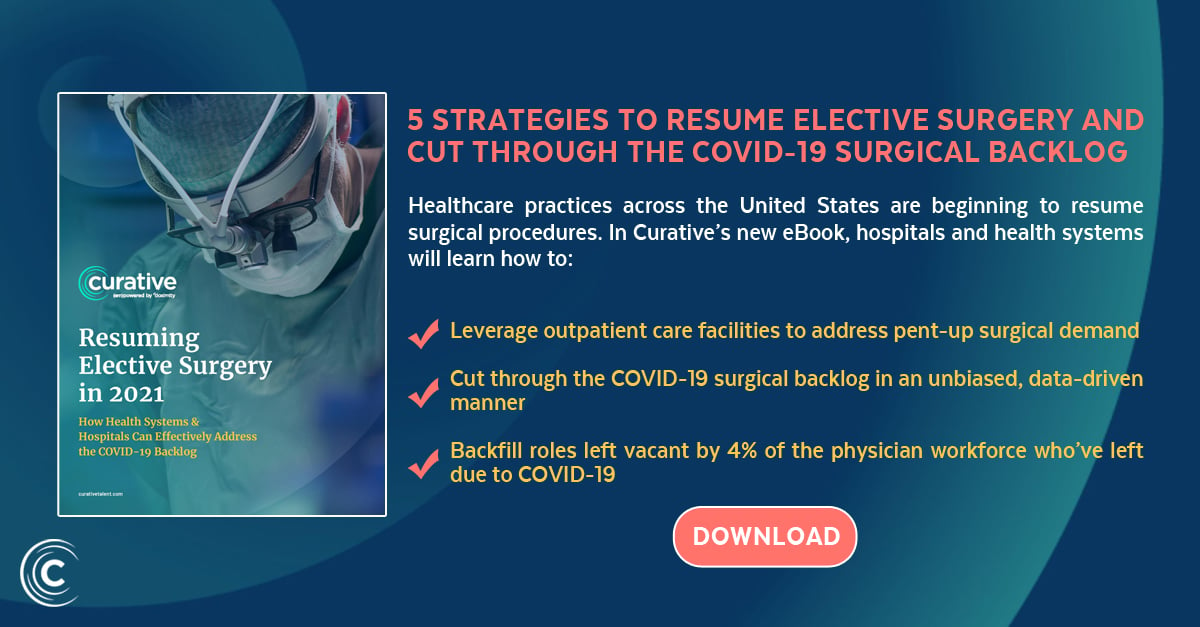 About Curative Talent
Recently acquired by Doximity, the world's largest medical network, the all-new Curative is a healthcare recruiting and staffing agency that finds incredible talent with less hassle using better data. We combine the industry-leading expertise and deep relationships of our experienced recruiters with Doximity's intelligent technology to fill roles quickly and effectively.
Our unique algorithm matches the right candidates for the right jobs; leveraging our unique relationship with Doximity, we're able to reach candidates that no one else has access to. To learn more about how we can help your facility address your hiring needs through our fresh, differentiated approach to healthcare recruiting and staffing, please visit https://curativetalent.com/.